Review of "Industrial Upgrading Enables Cooperation and Mutual Benefits" Theme Live Stream
2020-07-21
Share:

Industry Insights
Analogue intercom market- The market features low prices, intensive competitions and lower-priced rivals. Companies in the industry generally fight for survival and have neither money nor strength to develop new technology.
Digital intercom market- Manufacturers need to purchase patents or technology at high prices in the long run, industry standards are set by overseas companies, industry development is always at other's command and manufacturers are at the bottom of the industrial chain.
POC intercom market- There are no unified industry standards and companies operate in their own way and do not cooperate with each other.
Auctus AES Eco-communication System
With its continuous innovation in technology, product, channel, service, management and concept, Auctus has been serving industries and realms accurately, developing new products and services continuously as well as applying itself to the construction of the complete eco-chain of a "smart digital world". At present, Auctus has provided its clients with dynamic and extensible functions and services based on the independently-developed chip products and cloud products. By using the "smart convergence"converging broadband with narrowband, it develops the AES eco-chain with an eco-vision on the basis of the Auctus core technology.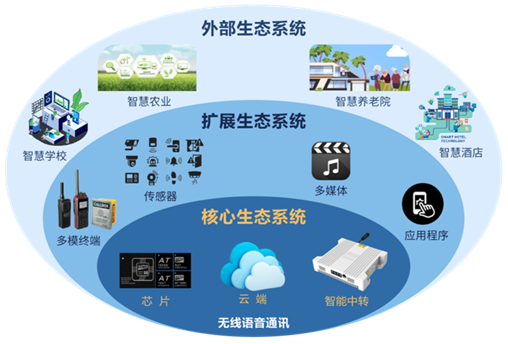 The core eco-technology of Auctus is the corner stone that keeps AES eco-chain expanding and growing. In the extended eco-system, core technology is the foundation for product innovation and function development of converged broadband and narrowband and other products. The core technology can be widely used by manufacturers of sensors and IoT to strengthen business cooperation in peripheral products, including developing APPs for third parties, enhancing convergence of multimedia functions with different information content (voice, data, pictures, etc.) and improving product application function when used with sensors and software. It keeps the whole industry growing, meets the true demands of segment market and provides compelling supports for the industrial upgrading in the cooperation with all parties. The core and extended eco-chain has grown sturdily from traditional Internet to mobile Internet and then to IoT (Internet of Things), such as LORA, NBIOT and 5G. By providing flexible interface system and realizing seamless communication and dispatching, it creates the new pattern of an era of interconnection of all things, further develops the external eco-system and embraces a smart society that pursues better quality of life, e.g., smart schools, smart farming, smart nursing homes and smart hotels. We will work together to create a multilateral win-win situation and"live and succeed" together with our eco-partners.
Auctus is ready to work with all intended manufacturers, providing you with all kinds of technical support or business cooperation to promote industrial upgrading and achieve the ultimate objective of win-win cooperation. As President Tsai said at the end of the live stream speech, we hope that all our peer companies can earn the first bucket of gold together in the new trend of the wireless communication industry.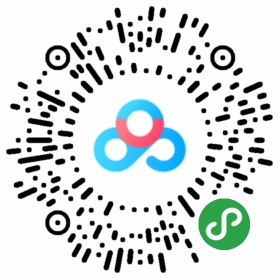 Scan QR code to download PPT for the conference