RF Power Amplifier Technology of Auctus
2020-10-05
Share:

As a leading enterprise in the field of RF power amplifier, Auctus has more than 15 years of industry experience and advanced design level of linear power amplifier. Auctus has been developing with customers and making customized products for customers all the time, for the purpose of meeting their requirements of various applications.
R&D Capacity
Design experience in 2G, 3G, 4G and 5G for mobile communication

Design experience in wireless power amplifiers for military and industrial communications

Design experience in microwave power amplifiers for 2.4G 100W / 300W

The most advanced technology, the shortest lead time, and the most optimized cost

The unique technology can guarantee the most optimized cost and the most reliable products in the shortest lead time

Own more than 10 professional engineers with an average of more than 10 years of industry experience, with 24 hours for your service

Advanced PLM management system in research and development projects, to provide you with the most controlled project cycle management
Technical Capacity
1、Feedforward Technology
On the basis of the standard feedforward technology, Auctus has developed the high and medium frequency detection technology, which helps to fundamentally eliminate the interference between the power circuit and RF circuit, thus reducing the requirements of assembly and greatly improving the first pass rate of the product.
2、 Predistortion Technology
Through the study of LDMOS power tube, we find that the output distortion spectrum of power amplifier has different performance according to different standards, and the requirements of predistortion circuit are also different. A targeted design can make the predistortion circuit more effective.
3、Doherty Technology
Since 2005, we have developed a variety of topologies to complete the implementation of Doherty Circuit, which was first used in China. By adding compensation properly, the performance of the circuit is closer to the ideal value of the theory, so that the efficiency of the power amplifier is constantly improved.
4、Technology for Automatic Debugging of Amplifier
On the basis of the above mentioned technologies, the design implementation of amplifiers' automatic debugging is preliminarily achieved. It can greatly improve the level of automation and reduce the difficulty of production.
5、Thermal Design
We have the ability to numerically simulate hot spots on power amplifiers. We are mature in PCB copper plate, PCB, aluminum plate and copper plate welding processes, thus effectively achieving the reliability of power amplifier tube and the stability of long-term operation.
Category of Power Amplifiers
1、Mobile Communication
With efficient Doherty technology as the core, we provide multi-standard RF power amplifier for operators and equipment manufacturers, in the combination of DPD (Digital Pre-Distortion). The frequency covers Band1, band3, band5, band8, band38, band39, band40 and band41; The power ranges from 0.25W to 100W. The standards include TDD-LTE and FDD-LTE, from 2G,3G and 4G to 5G under development. We have mature development experience in power amplifier tube from LDMOS to GaN.
2、Private Communication for Public Security
Based on APD (Analog Pre-Distortion), we provide a linear power amplifier with high reliability, stable performance, small size, low power consumption and reasonable price for the public security private network, in the combination of Doherty technology.
3、Consumption
We adopt LDMOS power amplifier tube to implement semiconductor microwave oven. Previous magnetrons require 4000V power, with the features of short life, high cost and large volume. However, the semiconductor microwave oven can use 32V or less, with the features of long life, small size and safety, which can provide a better solution for the implementation of portable microwave oven. Therefore, except that vehicle microwave oven is used for household, domestic manufacturers basically do not have this product;
We adopt LDMOS power amplifier tube to implement semiconductor defrosting, which makes food defrosting more sanitary in more uniform temperature and faster speed.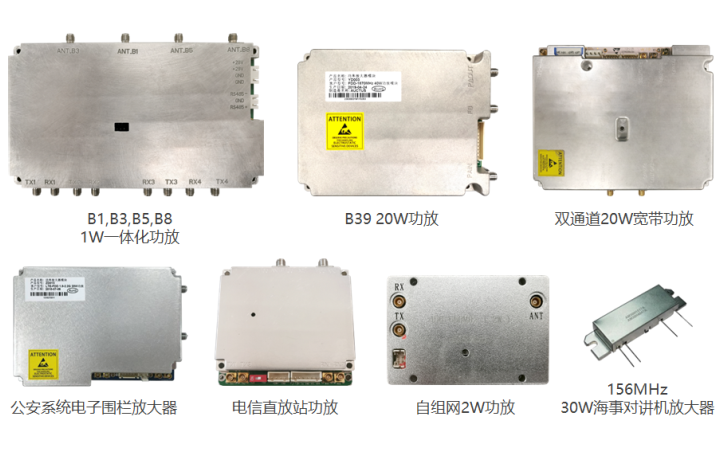 Production Line for Power Amplifier
Production Line for Power Amplifier in Auctus is an independent product line, which is mainly established for the products of ZTE, Datang and other communication products. The existing instruments and equipment of Auctus are mainly from R&S and Keysight Technologies;
Our company can undertake projects for ODM or OEM in other RF equipment (intercom, repeater, etc.) in addition to power amplifier module.
Customer Group
Auctus is a partner of ZTE, Datang and other well-known companies in the communication industry at home and abroad. Our company has been maintaining a stable cooperative relationship with major customers, and has accumulated a good reputation and customer resources.