Research Group of the Radio Administration Visited Auctus Microelectronics Technologies(QuanZhou)Ltd.
2021-01-04
Share:

In the morning of October 27, 2020, the "Roots in Community" 2020 research group of young cadres of the Ministry of Industry and Information Technology visited Auctus Microelectronics Technologies(QuanZhou)Ltd. Members of the research group are from the General Office of the Ministry of Industry and Information Technology, Radio Administration, National Radio Monitoring Center, China Electronic Information Industry Development Research Institute, etc. The research group, accompanied by Mr. You Xiaojun, Director of Radio Frequency Station Management Department of Fujian Provincial Department of Industry and Information Technology, and Mr. Lin Yuan, Director of Quanzhou Radio Administration, listened to the introduction of Mr. Cai Dongzhi, Chairman of Auctus Technology, about the company's technological innovation, product development and industrial development from chips to system platforms.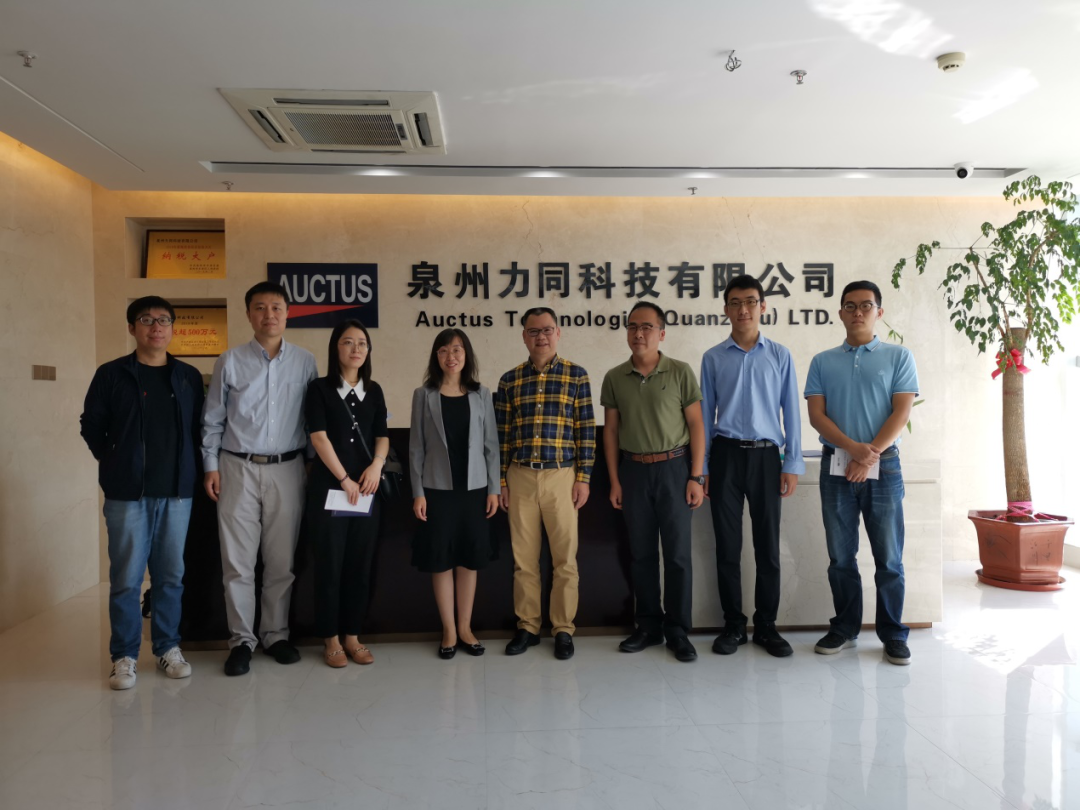 Mr. Cai Dongzhi with the research group of the Radio Administration of Ministry of Industry and Information Technology
As a key software enterprise within the national planning layout,
Auctus Technologies Co., Ltd.is a high-tech enterprise integrating research and development, production, sales and service of wireless communication products, and it has established a complete systematic technical platform with main products include private network communication chips and modules, private network communication terminals, RF amplifiers, system equipment and software, etc. It is one of the few companies in the industry that cover the complete industrial chain from chip design to complete equipment manufacturing, from terminal equipment to cloud control. The company owns key technologies and intellectual property such as SoC chip design, software radio design and broad-narrow convergence communication system, and is one of the world's key wireless communication solution providers. Its products enjoy good reputation all over the world in wide fields of private network communication, base station, logistics, security, and Internet of Things.
The research group and the relevant leaders of the provincial and municipal radio management gave high praise to the independent development of digital chips and the construction of a converged communication platform by Auctus Technology during the visit.
In the subsequent forum of the intercom industry in Quanzhou City, Quanzhou City Radio Intercom Industry Association President Mr. Lin Chaoli, and part of the executive vice presidents of the leadership attended the meeting and members of the research group listened in detail to the entrepreneurs representatives of the Association about the development of Quanzhou intercom industry. The work and contribution of Quanzhou Radio Intercom Industry Association earned the recognition of the research group and the provincial and municipal radio administration leaders. The research group representatives said they would carefully sort out the research situation, file a high-quality research report, and implement the "Radio Management Regulations" and related regulatory documents in daily work for higher radio management, and create a fair and reasonable business environment for the development of the industry.